The Top Warbird Aviation Museums
These are the top warbird aircraft museums around the world that you must visit at least once in your lifetime.
Whether you're young or old, the history of aviation never ceases to inspire the imagination and excite the dream flight. Luckily there are hundreds of aviation themed museums around the globe that meticulously collect, preserve, restore, and maintain a great fleet of aircraft and artifacts so all can enjoy. We've put together some of the top warbird aircraft museums with the largest and oldest displays of military aircraft so you can begin your journey.
---
The Military Aviation Museum - Virginia Beach, Virginia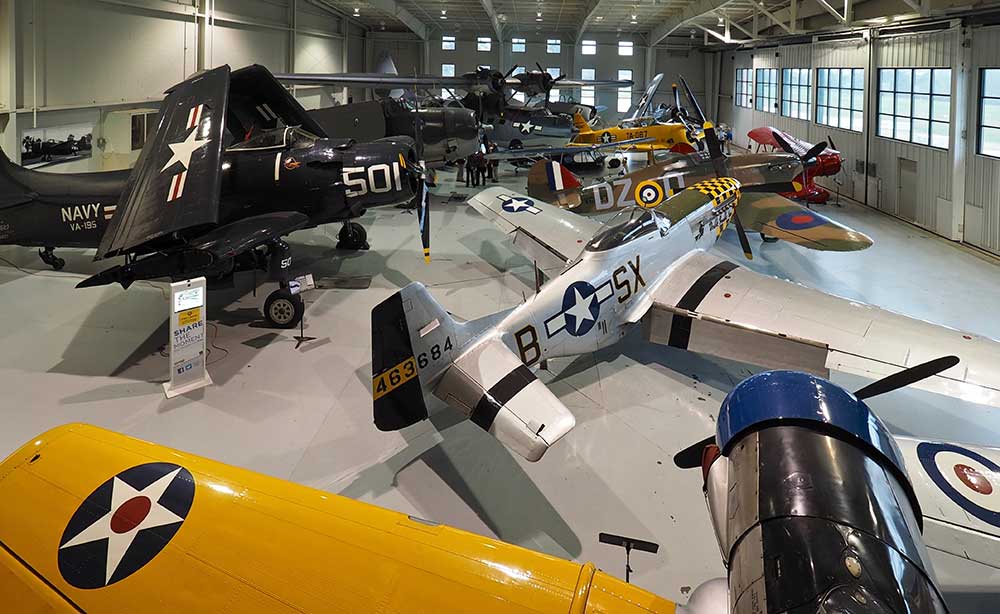 The Military Aviation Museum is home to a private collection of over 70 World War I and World War II-era military aircraft in the world and most of the aircraft are airworthy and flown at the museum during flight demonstrations and at air shows throughout the year.
https://militaryaviationmuseum.org
Fagen Fighter WWII Museum - Granite Falls, Minnesota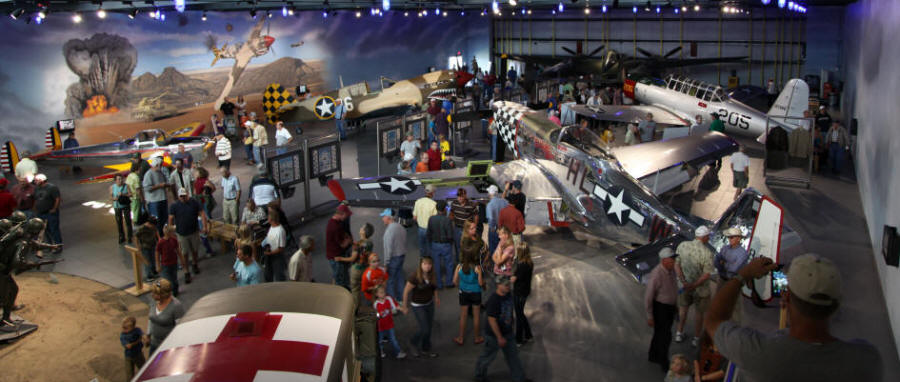 Fagen Fighters WWII Museum is home to a pristine collection of fully operational, active aircraft and vehicles from World War II. Also featured are fine art, bronze sculptures, interactive multimedia displays, and an ever-growing library. The facility is designed as a self guided experience, and gives a rare look into the lives and legacy of the Greatest Generation.
www.fagenfighterswwiimuseum.org

Palm Springs Air Museum - Palm Springs, California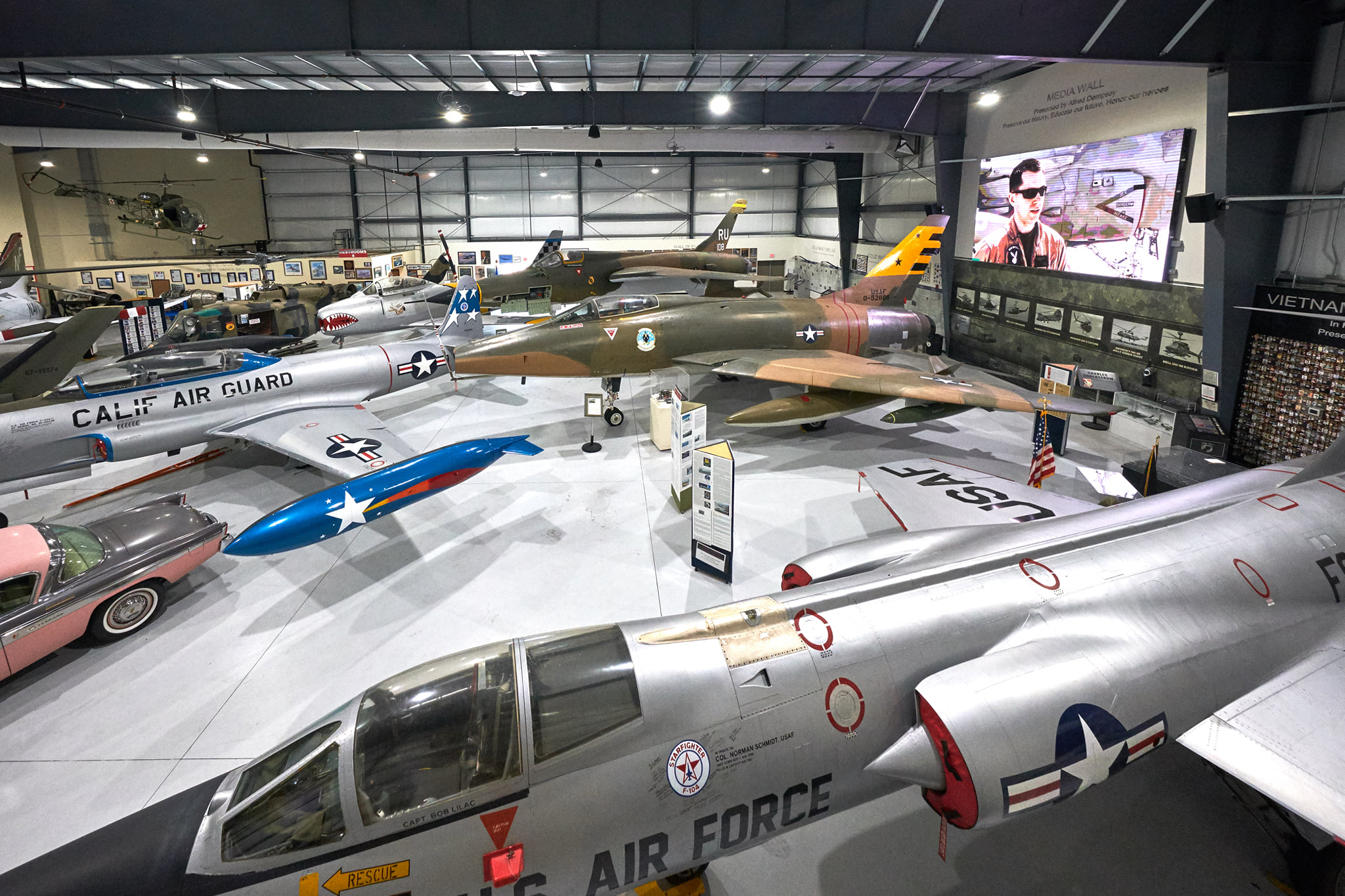 If you are in Southern California, it's worth the trip to The Palm Springs Air Museum which contains one of the world's largest collections of flying World War II warplanes, many of which were built in Southern California and have been used by the motion picture industry. The Air Museum is housed in a new structure that includes three main display hangars boast over 65000 sq. ft. of non-profit housing for over 40 aircraft, a theater, gift shop, ramp, and airport access for flight demonstrations and visiting planes, a research library, simulator, and education center.
https://palmspringsairmuseum.org/
Wings of the North - Eden Prairie, MN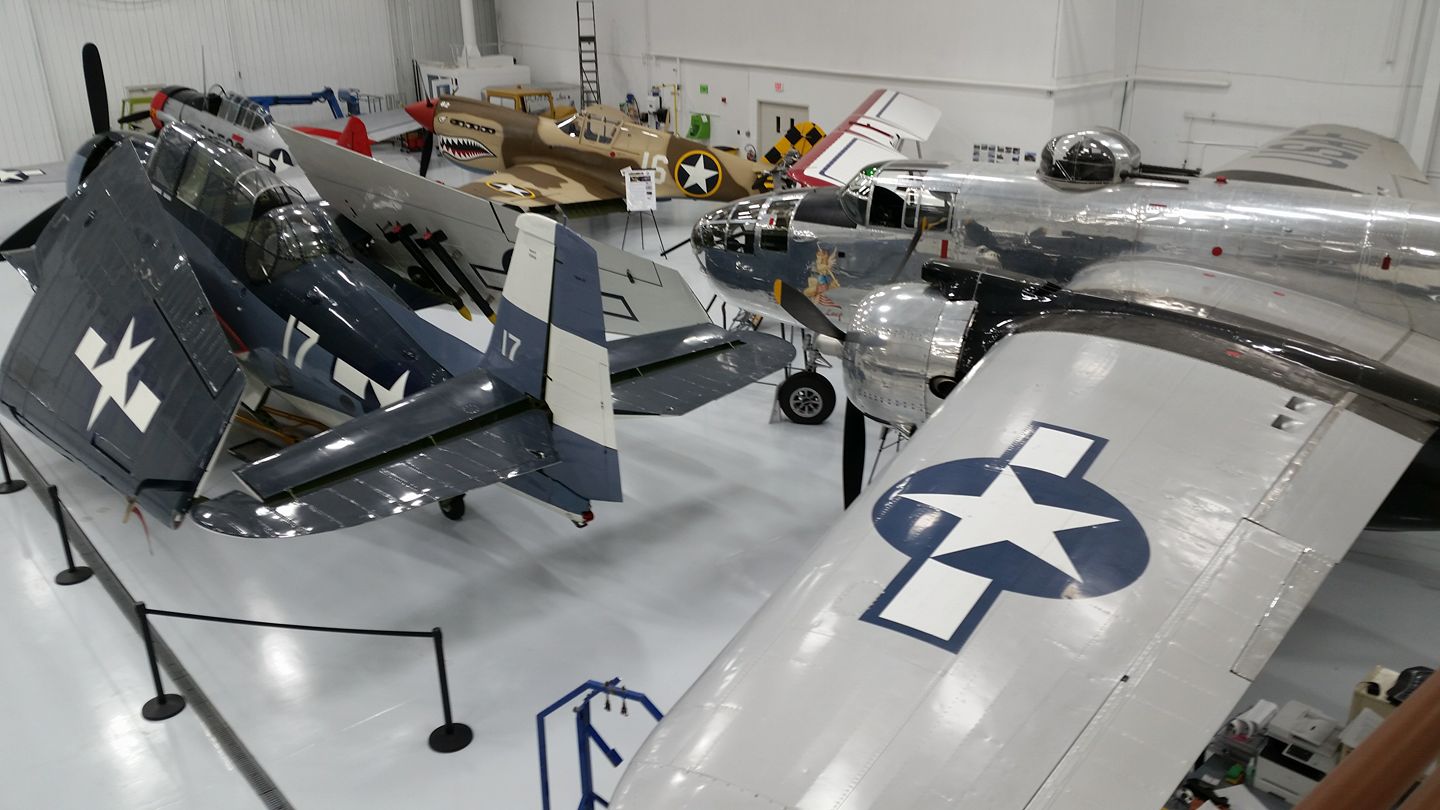 Wings of the North is a small voulunteer run museum on Flying Cloud Airport in Eden Prairie, Minnesota. The Wings of the North Air Museum currently houses three award winning aircraft: a P-51D Mustang named Sierra Sue II that saw action in Europe during World War II, an AT-6 Texan, and a Boeing N2S-1 Stearman that was used for training at the MSP Naval Air Station during WWII and was flown by future President George Herbert Walker Bush. All the planes have been beautifully restored. In addition award winning aircraft, the museum also has a TBM-3E Avenger, F4U-4 Corsair and many other aircraft that come and go throughout the year. The museum also features aircraft engines, an ejection seat, a WWII Jeep built by Ford, an AT-11 top turret, and other displays.
Red Bull Hangar 7 - Salzburg, Austria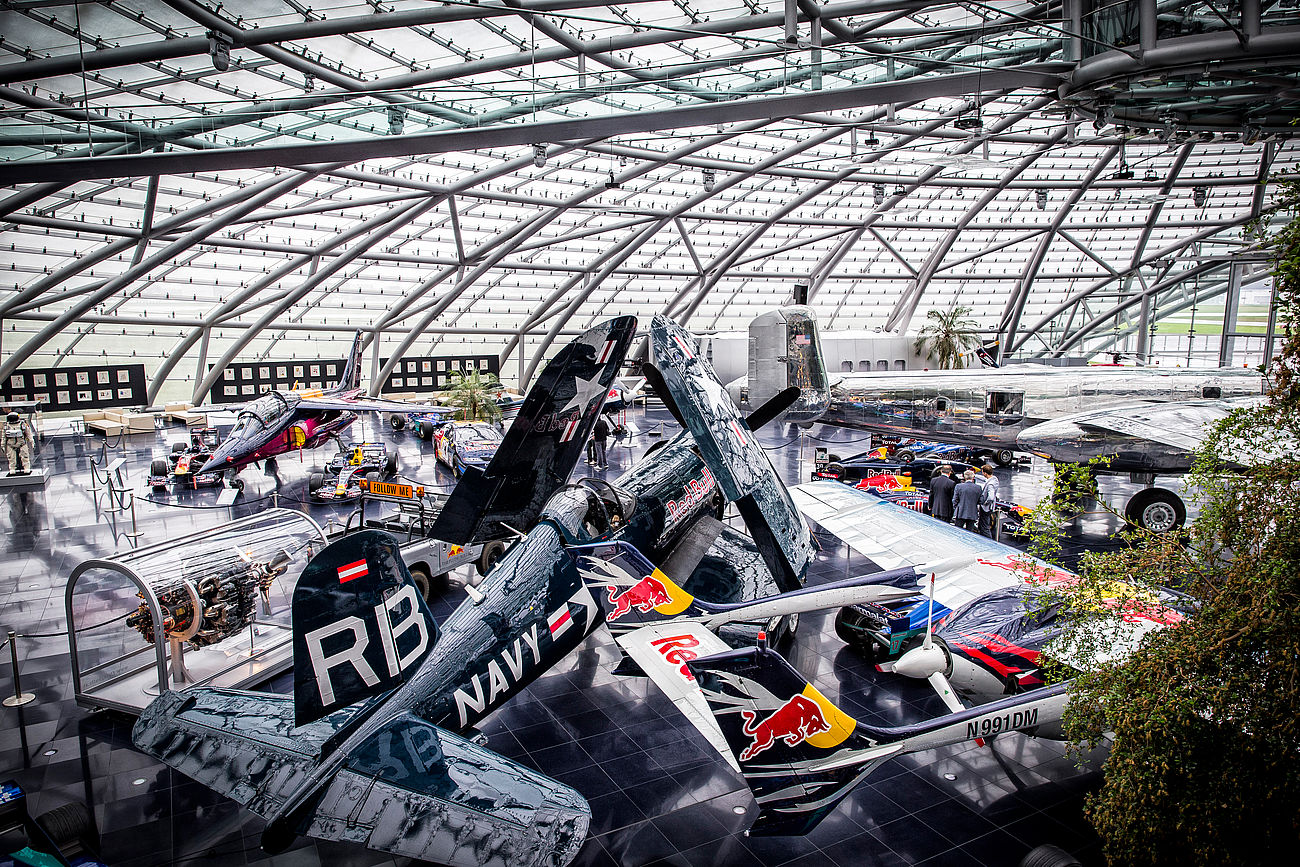 Hangar-7 is the home to the historical Flying Bulls aircraft fleet housed inside the magnificent architectural space designed by Volkmar Burgstaller. In addition to warbirds, the building houses the Michelin starred restaurant Ikarus, Formula 1 race cars, art exhibition space, two bars, a cafe. Something for everyone!
Fleet Air Museum - Yeovil, United Kingdom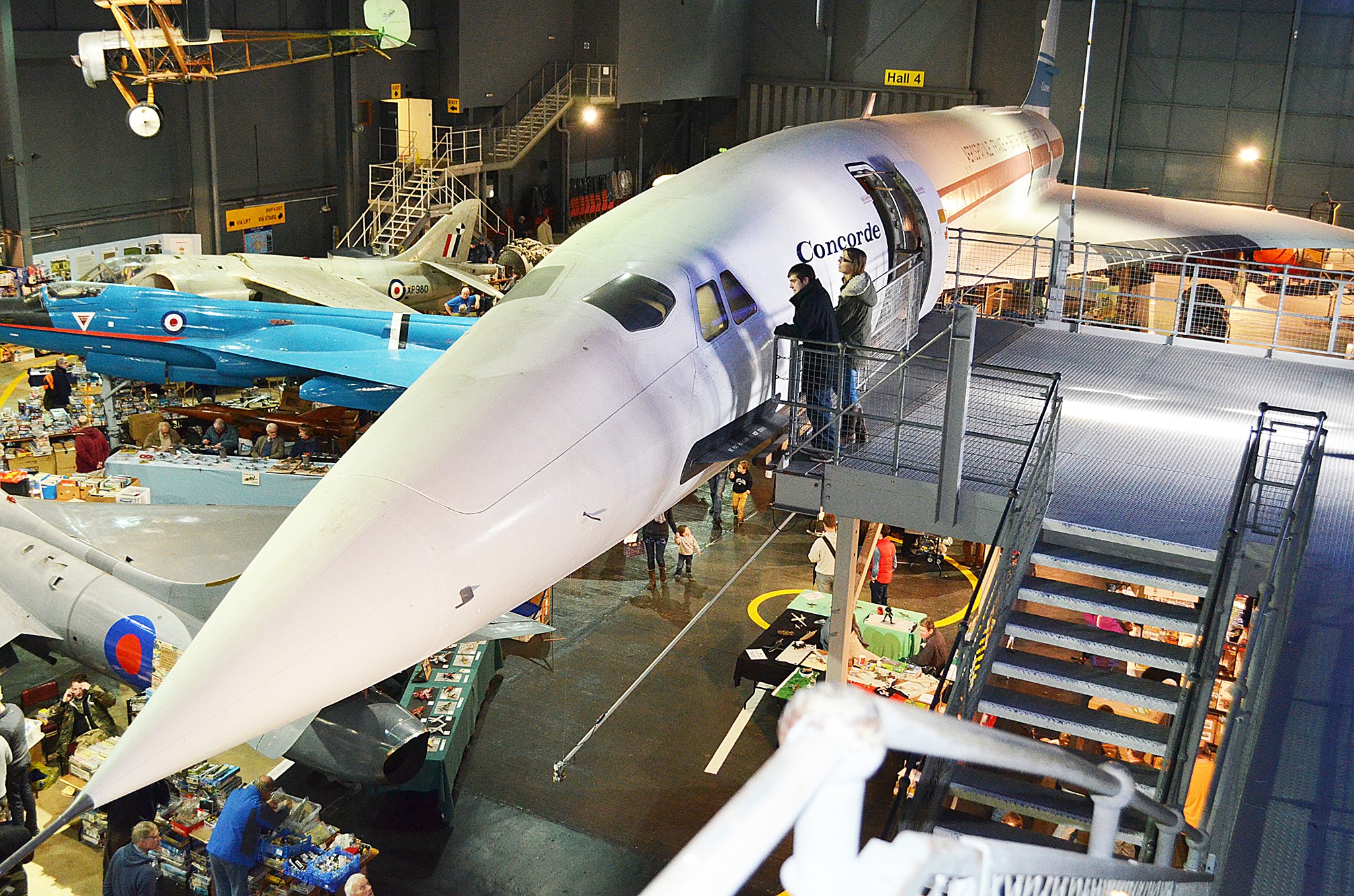 The Fleet Air Arm Museum is devoted to the history of British naval aviation. It has an extensive collection of military and civilian aircraft, engines, models of aircraft and Royal Navy ships, especially aircraft carriers, and paintings and drawings related to naval aviation. The museum is divided into 4 halls and covers over 350,000 square feet of exhibit space making it a must-see for visitors in the UK.
Central Air Force Museum - Monino, Moscow Oblast, Russia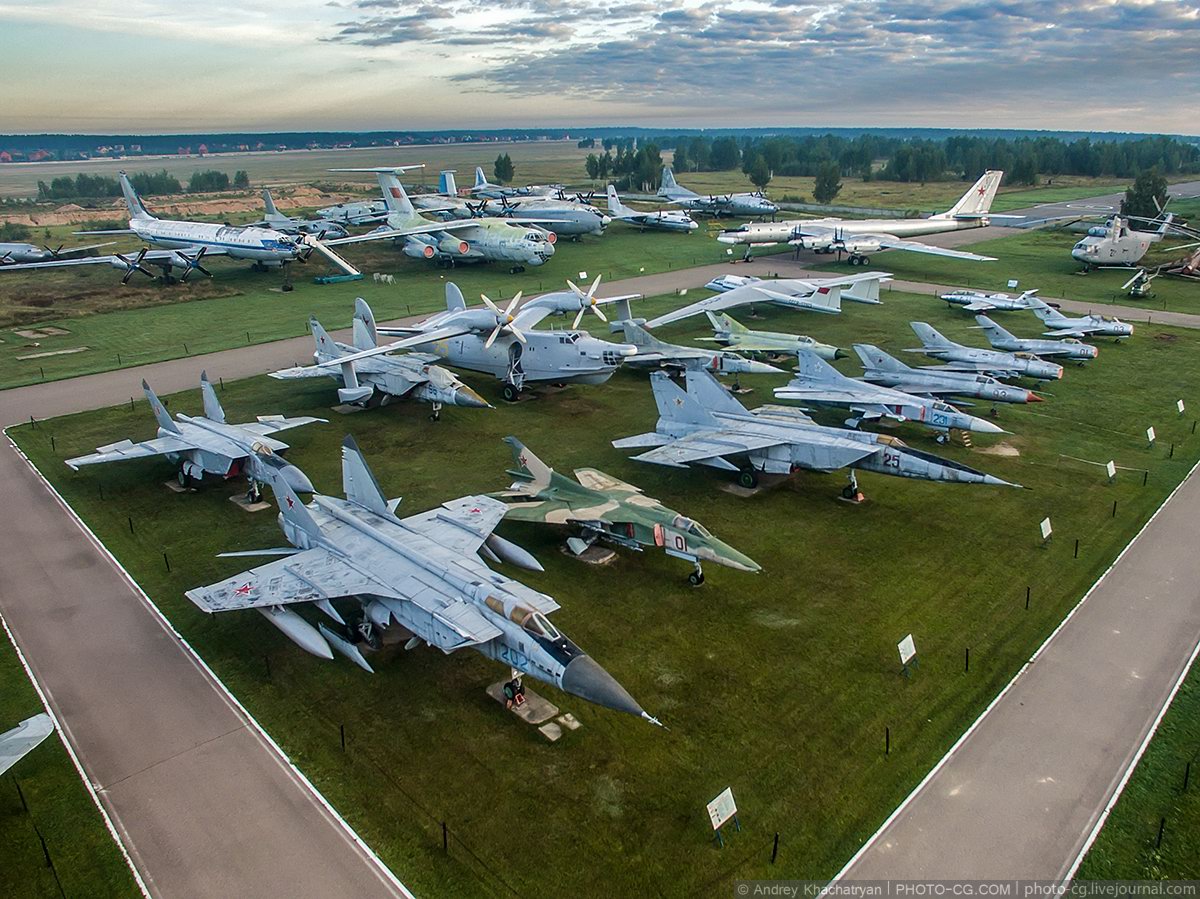 If you are a Cold War aviation buff and you find yourself in Moscow, Russia, the Central Air Force Museum should be on your itinerary! One of the world's largest aviation museums, and featuring the largest collection of Soviet aircraft, the museum includes 173 aircraft and 127 aircraft engines on display. The museum also features additional displays, including Cold War-era American espionage equipment, weapons, instruments, uniforms, artwork, and a library containing books, films, and photos: all are accessible to visitors. As of March 2012, there are apparently only five full-time employees at the museum, which opens on an occasional basis. Visitors are advised to confirm in advance when the museum is open.
Strategic Air Command and Aerospace Museum - Ashland, Nebraska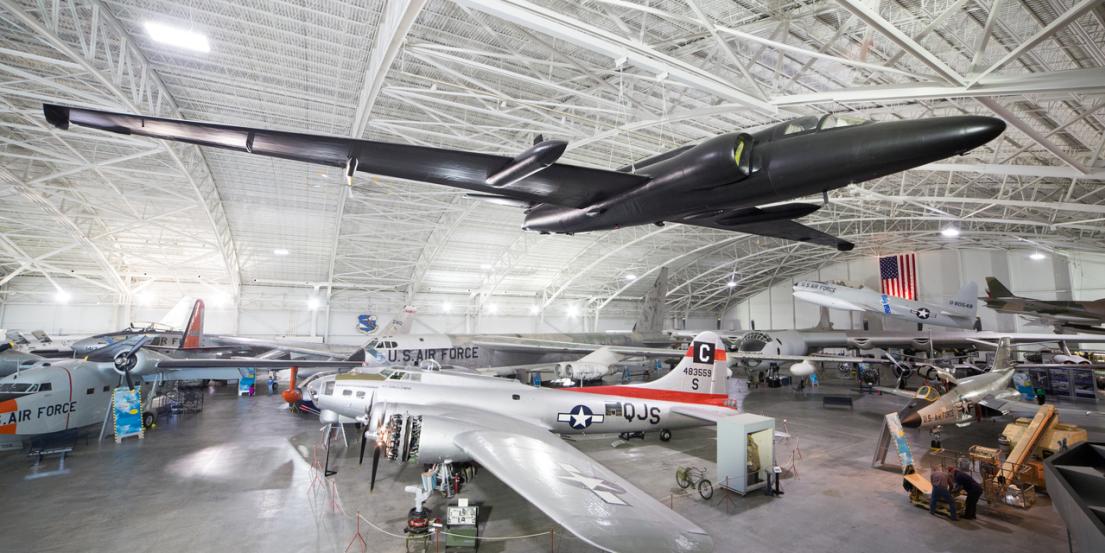 Located just outside of Omaha, Nebraska, The Strategic Air Command & Aerospace Museum is a museum focusing on aircraft and nuclear missiles of the United States Air Force. It is regarded as having one of the top collections of strategic aircraft. The museum is a 300,000-square-foot building that features a glass atrium, two aircraft display hangars, a traveling exhibit area, a children's interactive gallery, a 200-seat theater, a museum store, an aircraft restoration gallery, and a snack bar.
Dakota Territory Air Museum - Minot, North Dakota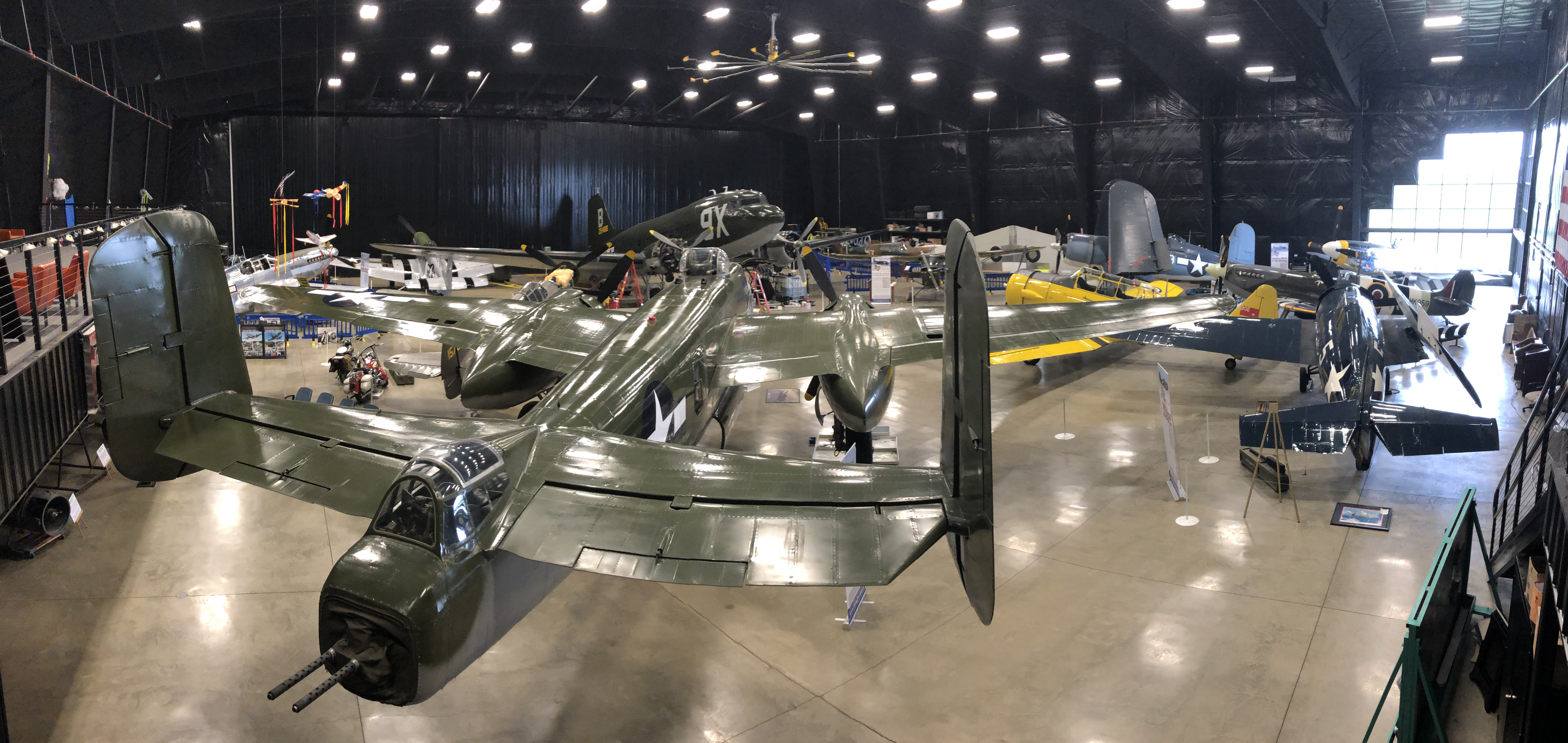 Located near Minot Air Force base is a small museum that should not be missed. The Dakota Territory Museum features a collection of fully operable and airworthy aircraft, many of which have won awards for their restorations. When not displayed at the museum hangar, you can see them flown at various airshows across the country. This museum is definitely worth the trip!
https://dakotaterritoryairmuseum.com/
National WWII Museum - New Orleans, Louisiana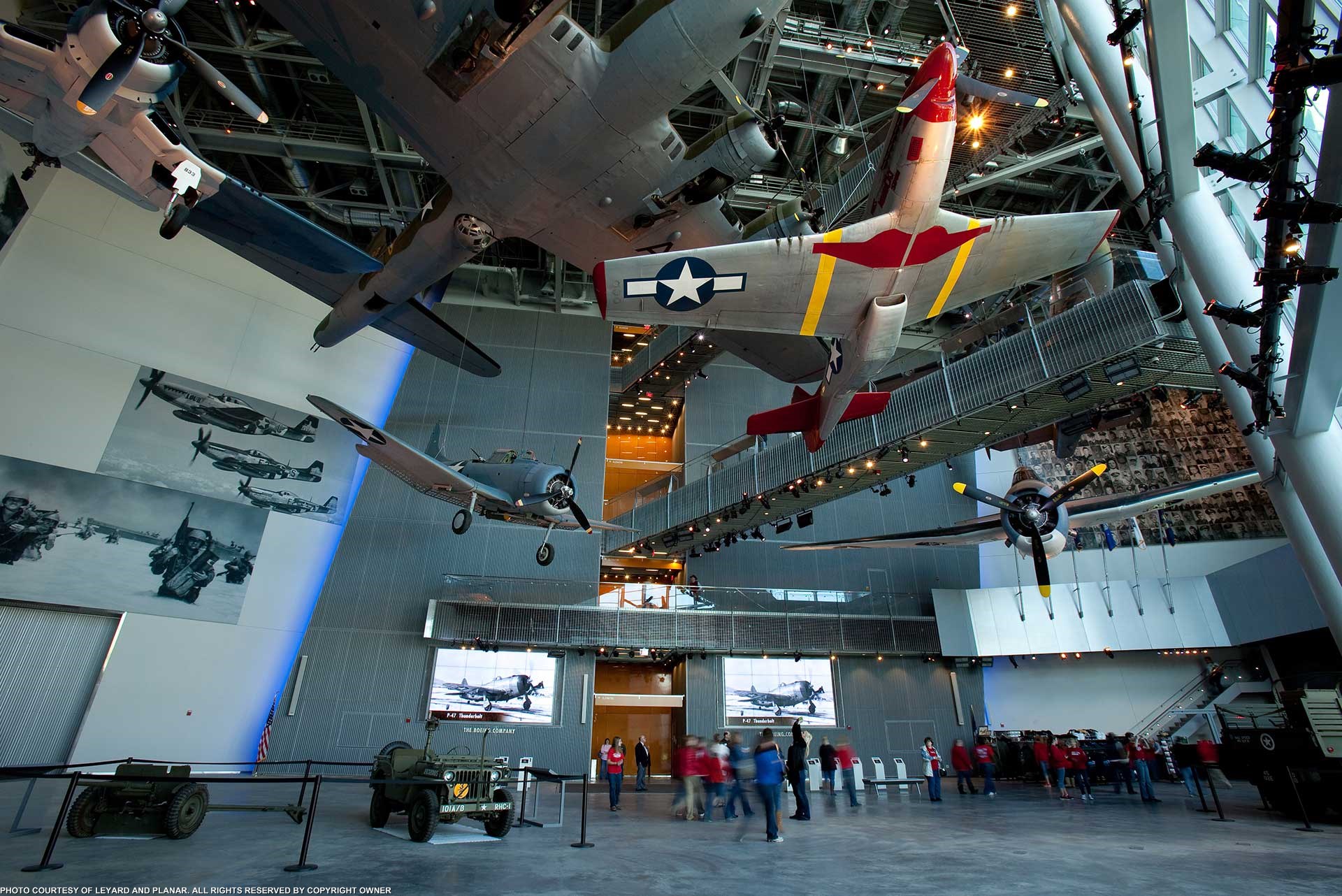 The National WWII Museum features immersive exhibits, aircraft, vehicles, multimedia experiences, and an expansive collection of artifacts and first-person oral histories, taking visitors inside the story of the war that changed the world. The museum boasts over 32,000 square feet of exhibition space is a must see if you are in the New Orleans area.
https://www.nationalww2museum.org/
Seattle Museum of Flight - Seattle, Washington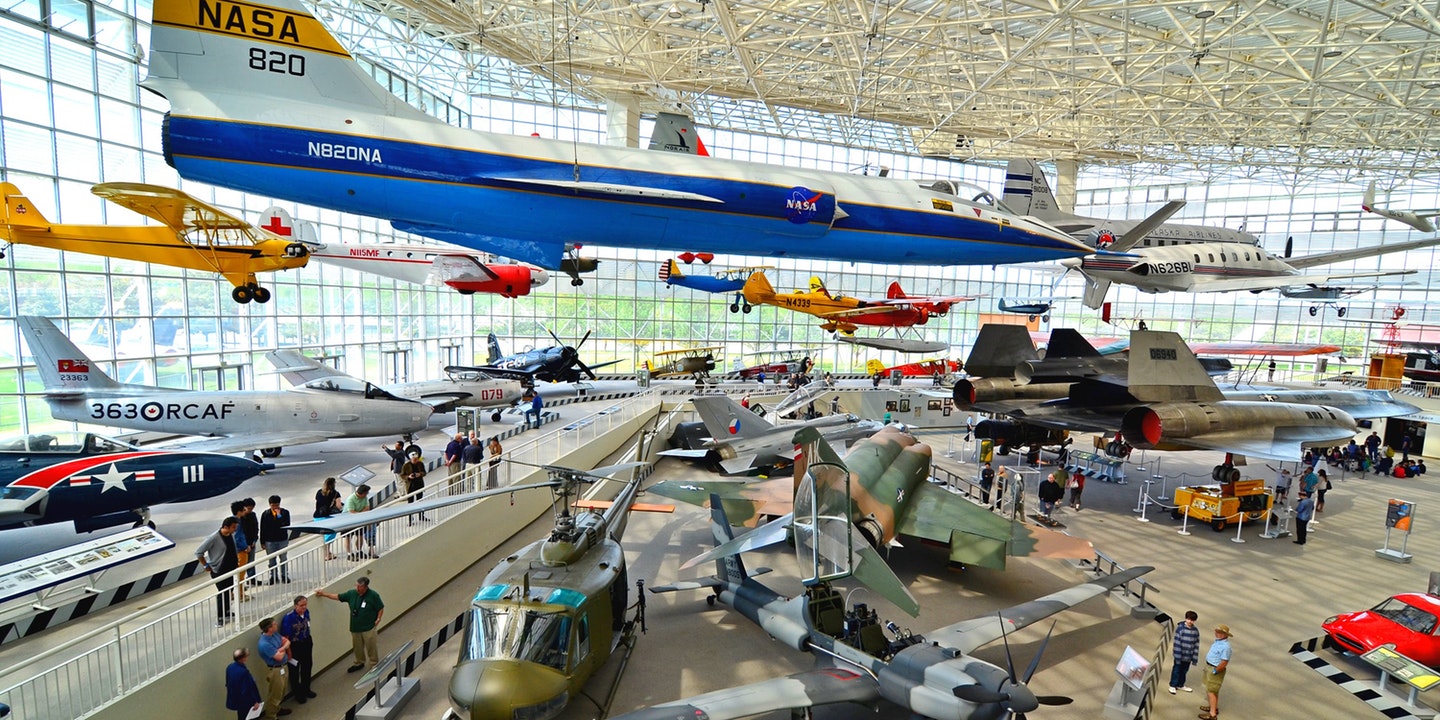 Attracting over 500,000 visitors a year, the Seattle Museum of Flight is the top aviation museum located in the Pacific Northwest and is the largest independent, non-profit air and space museum in the world! The museum boasts an expansive 185,000 square feet of exhibition space showcasing over 150 aircraft in its collection.
https://www.museumofflight.org/
Pima Air & Space Museum - Tucson, Arizona

If you ever are located in the southwest region of the United States, The Pima Air & Space Museum, located in Tucson, Arizona, is a must-see! One of the world's largest non-government funded aerospace museums the museum features a display of nearly 300 aircraft spread out over 80 acres on a campus occupying 127 acres. A large majority of the aircraft are displayed outdoors, along with there four indoor display hangars.
EAA Aviation Museum - Oshkosh, Wisconsin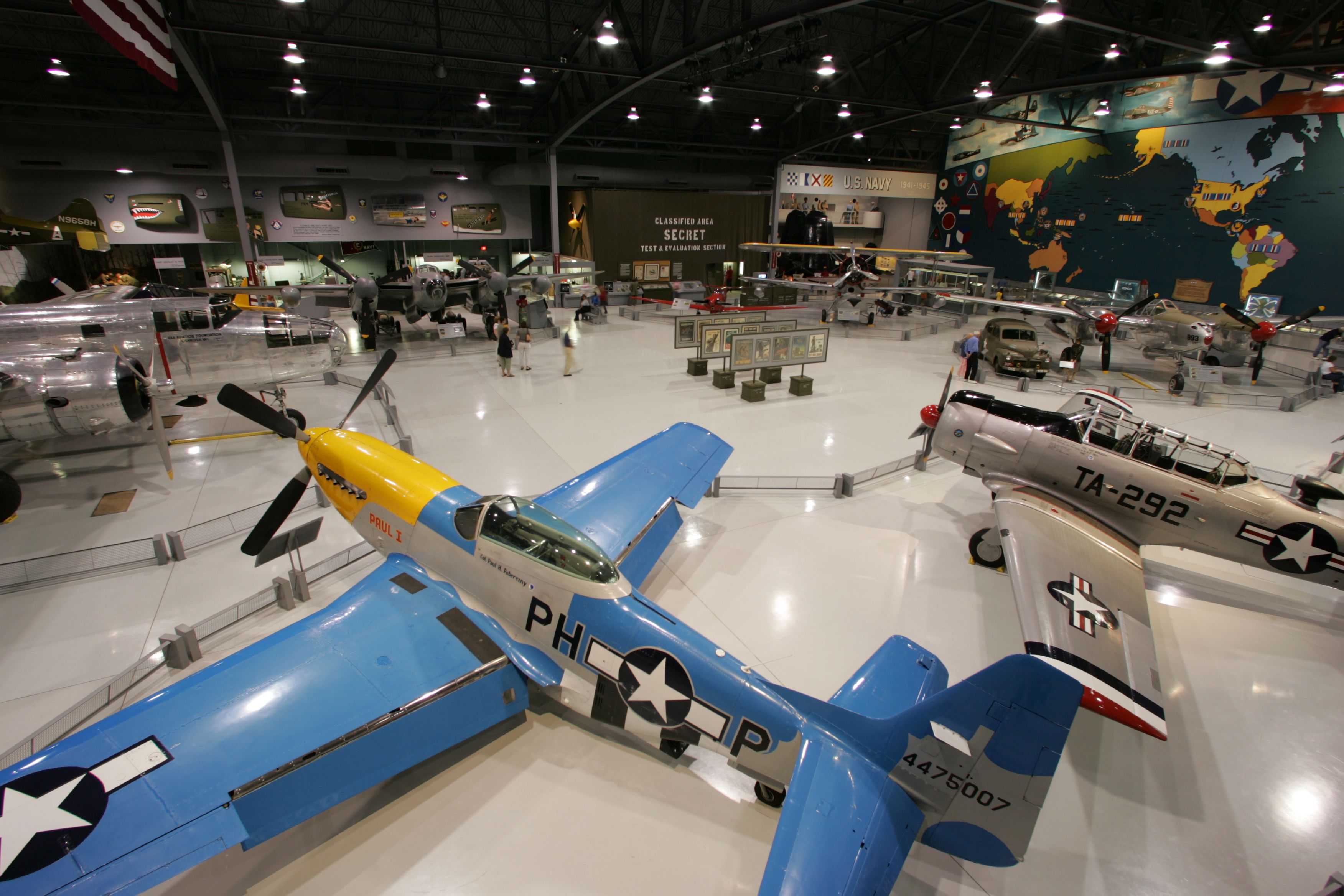 The EAA Aviation Museum is a museum dedicated to the preservation and display of historic and experimental aircraft as well as antiques, classics, and warbirds. The museum's collection displays more than 200 aircraft and 20,000 artifacts, including civilian and military aircraft of historic importance, and aircraft popular with aviation hobbyists—vintage, homebuilt, racing and stunt aircraft. At the end of July, each year over 600,000 visitors attend EAA Airventure for the one-week airshow making it the largest air show in the world and this makes the museum one the top to see on our list!
https://www.eaa.org/eaa-museum
National Museum of the United States Air Force - Dayton Ohio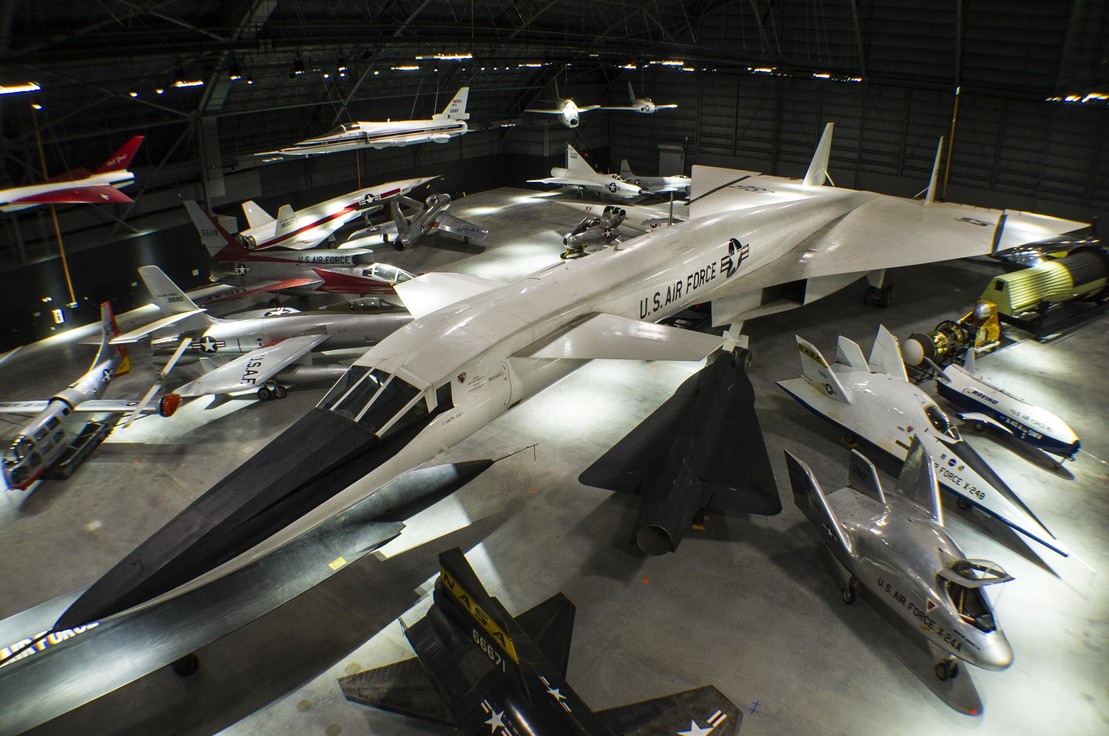 Located at Wright-Patterson Air Force Base, 6 miles northeast of Dayton, Ohio is The National Museum of the United States Air Force. With 360 Aircraft and missiles on display and 1,120,000 square feet of exhibition space, It's no wonder that about 1 million visitors make the trip to visit the oldest and largest military aviation museum in the world.
https://www.nationalmuseum.af.mil/
Steven F. Udvar-Hazy Center - Smithsonian National Air & Space Museum - Chantilly, Virginia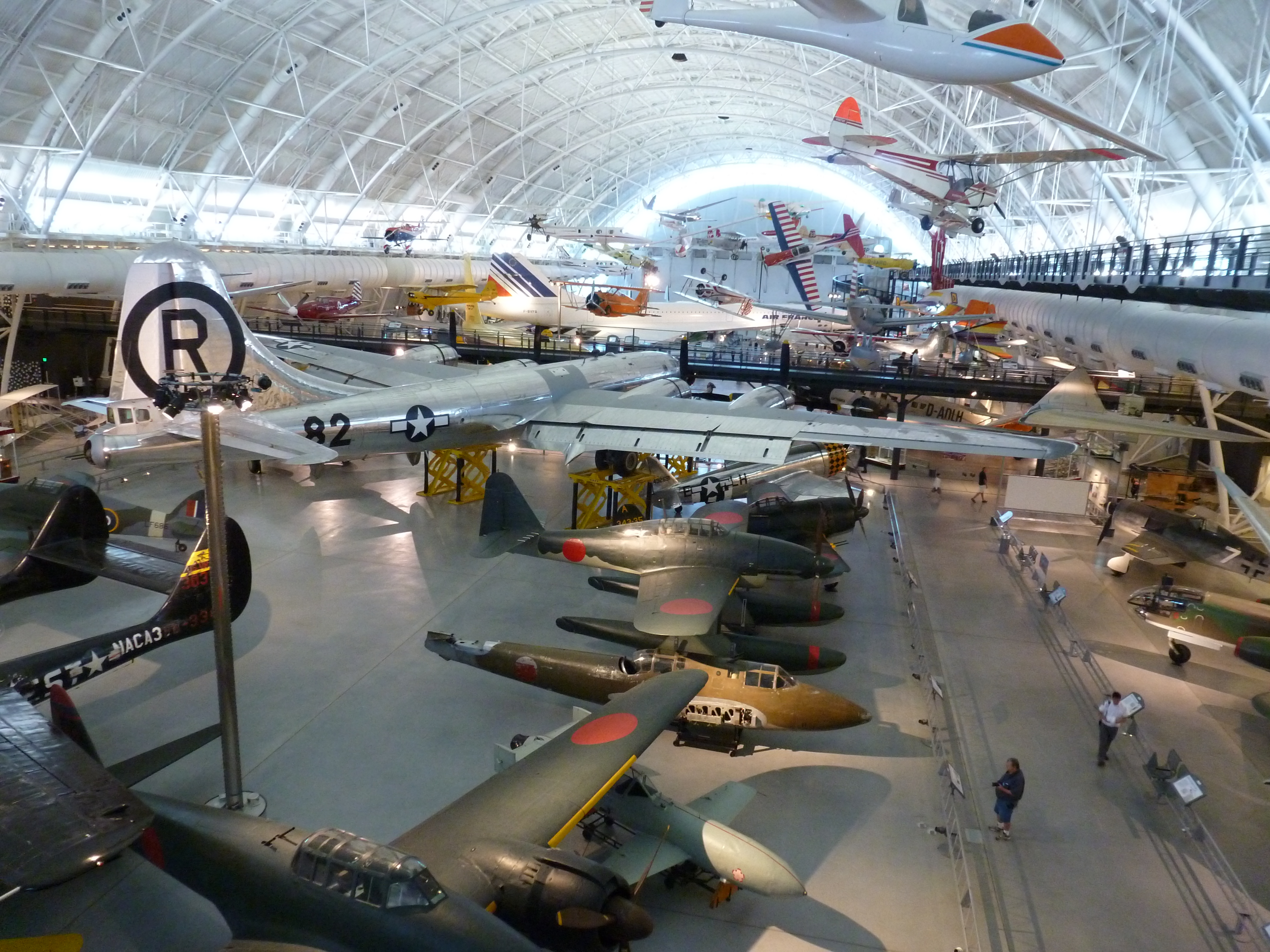 If you are in the Washington DC area, the Udvar-Hazy Center is definably worth the short drive to check out this immense facility. Capable of housing some of the largest aircraft, three connecting hangars hold hundreds of aviation and space artifacts at including the Space Shuttle Discovery; the B-29 Superfortress Enola Gay; a NASA android; Charles Lindbergh memorabilia; space science instruments; and pilot and astronaut equipment and gear. In total: 760,000 square feet of exhibition space!
https://airandspace.si.edu/udvar-hazy-center
National Air and Space Museum - Washington D.C

If you had to visit only one museum, the National Air & Space Museum in Washington DC is for sure the #1 destination for most! With 21 exhibition galleries, covering diverse topics from world wars to the history of astronomy, from the Apollo space program to the relationship between time and navigation, to the Wright brothers and the aerial age. The museum is currently embarking on a seven-year renovation project that will continue to make it the most premier aviation museum for generations to come.
---
Want to find a Warbird Aircraft Museum near you? Check out the map below. (Updated 12/10/19)