​The Origins of Shark Mouth Nose Art
Shark Mouth, Shark Face, Shark Jaws, Shark Teeth, or Shark Tooth... which ever way you wish to identify them: This iconic P-40 aircraft Shark Mouth Nose Art made famous by the AVG Flying Tigers has a surprising origin with in which you may not be familiar.
---
EDITORS NOTE: This article was inspired from the Sept. 2019 issue of WARBIRDS Magazine (Vol 42/No.6) Trivia Question Sept 2019, by Mark Laatsch, and excerpts from Doug Revell's excellent and concise answer are quoted in this article. The original written trivia question and answer is included at the bottom of this page.
---
Part psychological warfare, part self-expression of empowerment, and a display of aggression, the iconic "Shark Mouth" nose art undoubtedly deeply ingrained in today's popular culture. But where did it come from? Many are aware of the First American Volunteer Group (AVG Flying Tigers) who fought in the China Burma India Theater in P-40 Warhawks adorned with sharp-toothed shark face markings on the front cowlings of their aircraft.
In an article originally published in Life Magazine March 30, 1942: "The American Volunteer Group of fighter pilots, the so-called "Flying Tigers" of Burma and southeast China who paint the jaws of a shark on their Curtiss P40s. Outnumbered often ten to one, they have so far shot down about 300 Jap planes, killed perhaps 800 Jap airmen. They have violently wrenched from the Jap Air Force control of the skies over Burma and southeast China." It's reports like these that first injected the heroic actions of the young pilots with their fearsome shark painted aircraft into popular culture. With vivid stories of air to air battle and the imagery of sharks fighting in the sky, it is no wonder the AVG pilots and their P-40's paint schemes have captured the attention of aviation enthusiasts for over 80 years. But they weren't this first to paint such artwork on their planes, in fact, the sharp toothed shark had graced the skies on other aircraft decades before the Americans had taken flight over China.
Below we will dive deeper into the origins of Shark Mouth nose art.
In the Sept. 2019 issue of WARBIRDS (Vol 42/No.6), Doug Revell gave a very concise and thorough answer to the trivia question: "Identify the Origin of the famous Shark mouth nose art used by the American Volunteer Group (AVG) of the Chinese Air Force in 1941-42". He began by writing, "The first noted mouth was on a World War I German Roland C.II." (Revell) With a little research, we were able to find a number of photographs with the reconnaissance aircraft commonly referred to as the Walfisch (or Whale). With its monocoque fuselage, an opportunity to add the artwork of open-mouthed sharp-toothed and beady-eyed face was a stylistic addition the fit the aircraft well.
(Above) World War I German Roland C.II featuring a shark-like mouth. Interestingly enough the aircraft was commonly referred to as the Walfisch (or Whale).
(Above) A lineup of German Roland C.IIs, front featuring "Shark-Mouth" like nose art.
The French took towards a more macabre approach painting death faces and skulls on their Farman MF.11 and F.40 open cockpit observation and biplanes. Both were slow flying "pusher" type aircraft used for spotting enemy ground positions, later equipped with weaponry.
(Above) Farman MF.11 with a "Face", with two peering eyes and blunt teeth wrapped with lips. (Below) A Farman F.40 with a skull and set of grinning and broken teeth
It was the Luftwaffe that brought the first shark mouth artwork into WWII. "The design fell into disuse in the interwar period but reappeared on ZG 76 ME 110s operating from Norway during the Battle of Britain. The unit took the emblem to Sicily and Iraq." (Revell)
(Above) ZG 76 ME 110 with Shark Mouth nose art in full display. (Below) Front view of Shark nose art of the ME 110.
(Above) ME 110 with a sharp-toothed "Shark Mouth" in color, showing the white teeth, red mouth and black outline.
(Above) A color photo of a Messerschmitt Bf 110 warming up for takeoff showing of its shark mouth nose art and colorful camouflage pattern.
(Above) Other shark nose art variants included Focke Wulf Fw 190 with large round eyes and a mouth painted on the lower engine cowling. (Below) Swiss Air Force Messerschmitt Bf 109E Shark Mouth.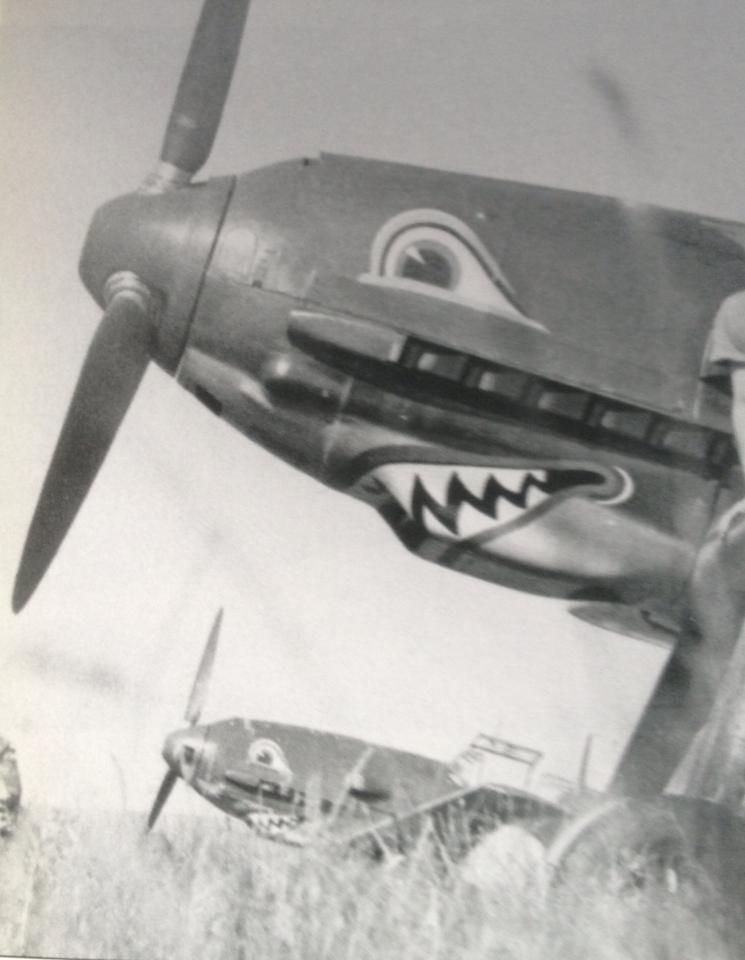 July 1941, RAF No. 112 was one of the first squadrons to receive the P-40 Tomahawk. The large, open air intake on the nose of the aircraft makes it particularly well suited for the design, and the unit created its own version of the Shark Mouth nose art after encountering German ME 110s earlier in the war.
(Above) A Tomahawk from the RAF 112 Squadron with Shark Mouth Nose art. (Below) A unique variant of a "fanged" Shark Mouth from the RAF 112 Squadron.
(Above) Another Shark Mouth Nose art variation from the 112 Squadron.
"It was these ME (BF) 110s that indirectly brought the "Shark Mouth" design to the AVG "They (German ME BF 110s) Encountered the RAF 112 Squadron which was reequipping with the Curtiss P-40 Tomahawks (RAF) in the North African Desert." Continues Revell. "The Flying Tigers saw a photo of the 112 Squadron Tomahawk and adapted it for their Curtiss Hawks." The rest is history and is forever ingrained into our aviation culture.
(Above) The iconic image of five AVG Pilots flying Curtiss P-40's flying in formation.

---
Make sure to check out some out our SHARK MOUTH DECALS in our store!

---
ORIGINAL EXCERPT from Sept. 2019 issue of WARBIRDS Magazine (Vol 42/No.6) Trivia Question Sept 2019, by Mark Laatsch
"Identify the Origin of the famous Shark mouth nose art used by the American Volunteer Group (AVG) of the Chinese Air Force in 1941-42"
"The fist noted mouth was on a World War I German Roland C.II. I have also seen a mouth, teeth, and eyes on a British Gunbus (Vickers F.B.5) and various 'faces" on Fokker DR.I and D.VIII engine cowlings. The design fell in disuse in the interwar period but reappeared on ZG 76s and ME 110 operating from Norway during the Battle of Brittain. The Unit Took the emblem to Sicily and Iraq. They Encountered the RAF 112 Squadron which was reequipping with the Curtiss P-40 Tomahawks (RAF) in the North African Desert. The P-40 Nose air intake was particularly suited to the adoption of the emblem. The Flying Tigers saw a photo of the 112 Squadron Tomahawk and adapted it for their Curtiss Hawks. The original German ZG 76 had an all read mouth, whereas the 112 squadrons had red highlighting the upper red teeth and the Flying Tigers on the Lower Teeth." -Doug Revell